MERRY CHRISTMAS
December 24, 2020
By: Juliana
MERRY CHRISTMAS!
Oh how the times have changed, but it's nice to keep with tradition in some things. For example, Christmas Time!! Everyone loves Christmas (unless you're a scrooge), and the wonderful traditions that are kept, or the new ones that are made. Christmas is a day of cheer, giving, and just an all around month of joy! Most importantly, the birth of our Lord and Savior Jesus Christ. Christmas is also the end of an era, and I believe we are all thankful for that this year! Some traditions we as a company have kept include our annual Christmas Party! We have tons of fun with a chili cook off, and good laughs. Another thing we do here at EBE, is the obvious Christmas decorating! We love to spend a day getting our venues decorated and ready for the Christmas season. However, our main Christmas tradition is hosting some amazing weddings!! What are some of your traditions/memories?
\OUR EBE OFFICE//
"Christmas is so much more than the commercials make it out to be. First and foremost it is about celebrating the Birth of our Risen Savior. Along with that comes celebrating the season and being together with friends and family. Some of my most favorite memories are exploring new places and traveling instead of opening traditional gifts. However, now that we have kids, Christmas is also about experiencing things through their eyes. Putting the star on the tree, counting down the days, matching pj's, getting messy in the kitchen baking for neighbors, or looking at Christmas lights with hot coco in hand. Regardless of what gifts are wrapped under the Christmas tree, I pray you remember to embrace the ultimate gift that is Christ."
-Misty
"I love Christmas so picking one favorite tradition is difficult. But I would have to say our girls' baking day. We usually pick a day before Christmas where we all show up and bring ingredients to make our favorite or new Christmas treats. It is always so fun to try new things and have my nieces help us cook. Love getting to spend some quality time with my mom, sister, sister in law, and all the nieces and nephews."
-Emily
"My favorite Christmas memories are those of my brother and I. Every Christmas Eve my brother and I would sleep in his closet with sleeping bags. We would stay up as long as we could waiting on Santa. My brother is 5 years older than me, so he was waiting on Santa with me out of love. We had long grown out of the Santa age before I did. I loved spending time with my brother and sharing the magic of Christmas. I do not have any photos of those closet sleepovers waiting on Santa, but here's one of Christmas last year."
-Olivia
I had so many pictures to choose from, but I finally narrowed it down!!
"I have so many wonderful memories at Christmas time, with my family growing up. Most of them, however, are all rooted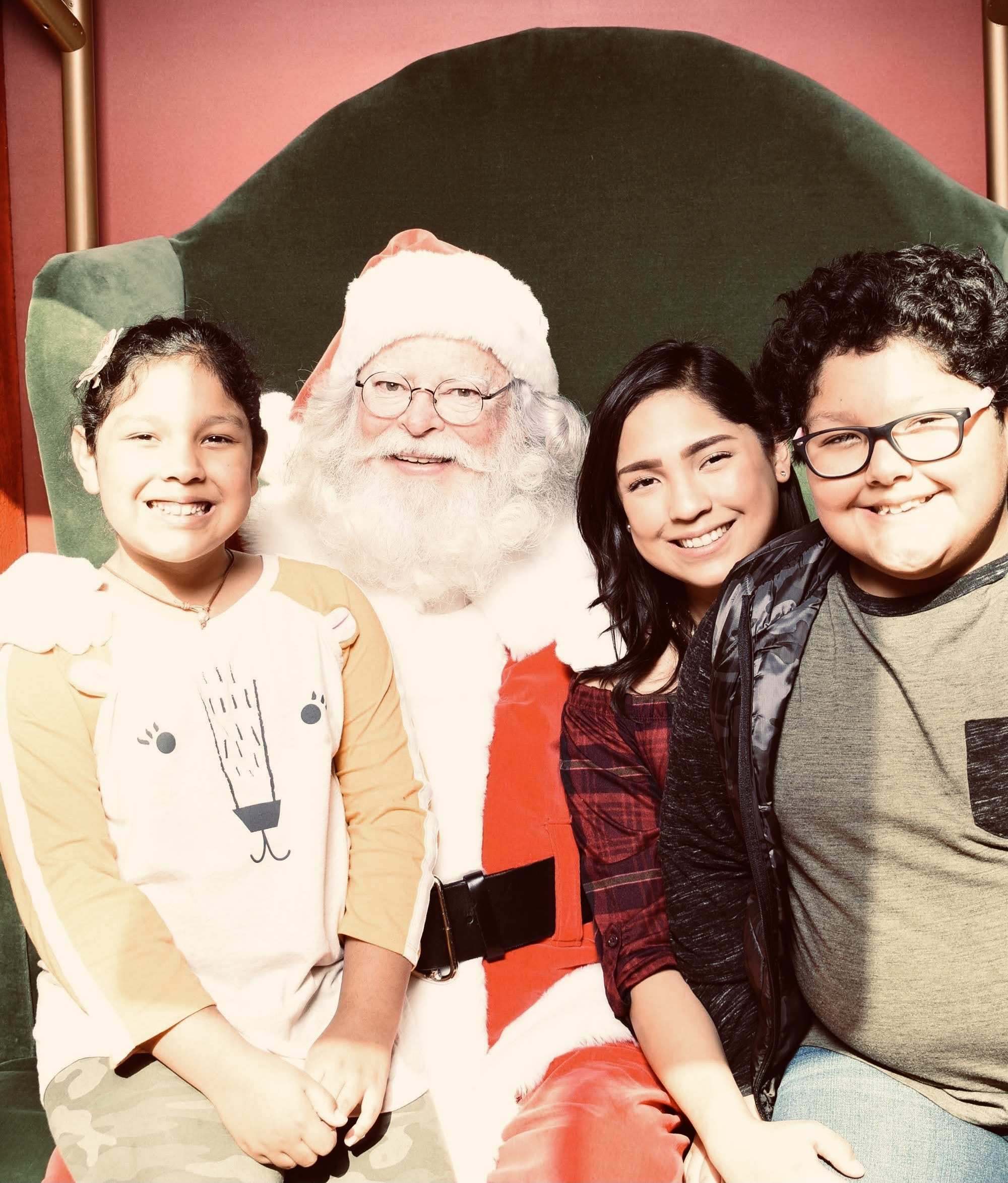 around gathering at my grandparent's house on Christmas Eve. My parents are both from big families. My Daddy being the oldest son of 16 children, and my Mother being the youngest daughter of 13! So one can imagine how hectic the house was with aunts, uncles, cousins, and friends. I admire all of my grandparents for being such hardworking, humble, and God fearing human beings. They always made it a point to include every one of us grandchildren and let us know we were loved. I could always count on going to my Ama and Apa's house and there was a goodie bag waiting for us with fruits, nuts, and candies. Then going to my Grandpa and Grandma Tony's house where another goody bag with fruits, candies and school supplies was always there. And the food y'all!! I come from a family of amazing cooks and bakers, who would fill the house with the most delicious treats. From homemade tamales, bunuelos, and warm hot chocolate to wash it down, there was never a shortage of Christmas goodies. Above all, I remember the people around me to share it all with. Huddled around the living room with our bellies full and singing Christmas carols was the best way to end our evening of festivities before getting bundled up to brave the cold on the way to Midnight Mass. I love telling these stories to my children, as we make new traditions of our own. I know this year has been a difficult one for all, but I hope we can all cling to these memories and remember what this season is truly all about, our Faith, Family and Blessings."
I wish everyone a wonderful and blessed Christmas!!
Love,
Catie
"Christmas is such a happy and joyful holiday, and how can it not be since it's core meaning is the birth of our Lord and Savior Jesus Christ! It gets so distorted with the worldly presents and such, but the memories I get to make with my family reminds me of how much God has blessed me beyond deservance. One of my ultimate favorite memories is whenever my family and I lived in Colorado, and we went down all bundled up to cut down our Christmas tree! It was SO much fun...for us at least! we kids didn't do much helping besides smiling for pictures and drinking our large mugs of hot cocoa! That being said, I pray you all have a Merry Christmas and remember that it is The Lord, and The Lord only that saves."
-Juliana :)